KOLMIO ETAN 6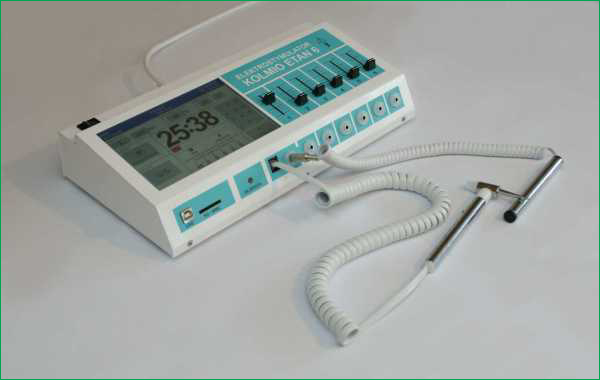 Electrostimulator KOLMIO ETAN 6 is a stationary, surgery device for electrostimulation of acupunctural points, for physiotherapy and for TENS electrostimulation. The device is recommended for a wide range of users because of large regulation of stimulating impulses.
The KOLMIO ETAN 6 electrostimulator is used for:
The KOLMIO ETAN 6 electrostimulator is used:

eliminating pains,
fighting with addictions, especially nicotine addiction,
ridding of wrinkles,
slimming,
healing of wounds and burns,
eliminating injuries, fighting with stage fright,
curing rheumatic, neurological and other illnesses.

in surgeries,
in hospitals,
in anti-pain clinics,
in beauty salons,
in fitness clubs,
in sports clubs,
in sanatoriums.
The use of the device is comfortable and the work parameters are stable and reliable thanks to the ergonomic design and modern digital techniques.
The KOLMIO ETAN 6 device can be connected to the computer. You can use the computer program to create and use simple and advanced healing therapies.
The electrostimulator KOLMIO ETAN 6 has the following characteristics:

six independent channels, enabling concurrent stimulation of up to 12 points,
working with surface and needle electrodes,
two working modes (simple and packaged impulses),
polarization selection (positive, negative, alternating),
common regulation of the frequency for all channels,
independent regulation of amplitude for each channel,
special electrode for acupunctural point stimulation,
automatic acupunctural point detector,
special shape of electrical impulses, which increases the effectiveness.
The electrostimulator KOLMIO ETAN 6 is equipped with:
supply wire,
the wire for computer connection (USB standard),
computer program,
6 pairs of wires for body stimulation,
start set of self-adhesive electrodes,
active and passive electrode for acupunctural point stimulation and detection,
technical user's manual,
medical user's manual - book "Your Health in Your Hands"
For trading information please fill the contact form.